Pipe extrusion lines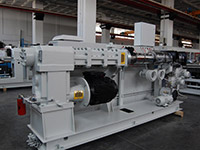 Dextec single Screw Extruders are produced with Germany's most advanced technology. Only CE and ISO 9001 Quality Certificate approved components have been used in its production. With our Single Screw Extruders, each being an engineering and technological marvel, you can increase your production capacity from a minimum up to 700kg/hour and manufacture pipes having a diameter ranging between 8 mm to 630 mm with polyethylene and polypropylene raw materials.

The range of our single screw extruders vary from the smallest co-extruder with 20mm of diameter up to the biggest one with 90mm. The screw length / diameter ratio called L/D ratio varies from 20 up to 36, depending on pipe diameter and material used.


---
Profile extrusion lines