WPC profile extrusion lines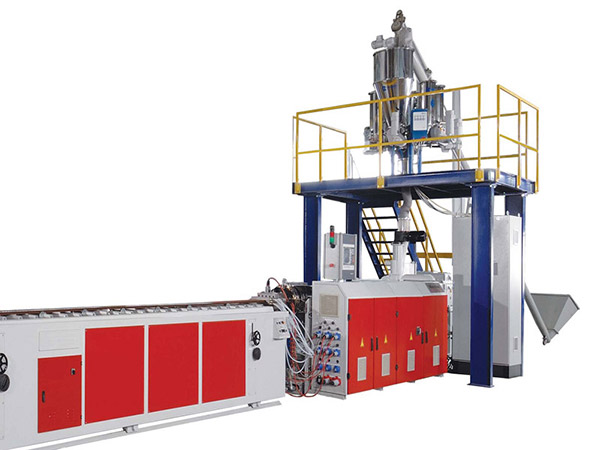 ---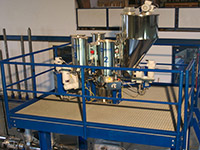 Our dosing unit consist of up to 8 components gravimetric components, The material is transported by conveying into up to eight different dosing components. These dosing equipment are special developed for wood fiber processing. From each side three components are dosing in a central mixing screw, which is feeding the crammer feeder.

It is a easy to handle and easy to clean system. The formulation is "made" at screen of the Extruder. All formulations are stored and the material balance /material consumption is presented at screen, too. For example there is a monthly balance sheet for each material as well as for the sum of all as well as the specific energy consumption of the whole line.

The communication between the Gravimetric dosing system and the Extruder is done by a profi-bus system.


---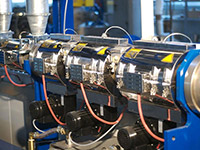 Our Extruder for producing profiles filled with a high percentage of wood fibre are designed considering the fact that the material wood fiber does include a higher percentage of moisture.

The WPC Extruder system has up to 6 venting zones, to allow the work with natural fiber with high percentage of humidity, without the need of a pre-drying.


---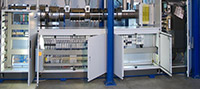 Electric cabinet is made from best and modern parts available in the German market. We do not make compromises on the quality of any single component used in our electrical panel, only the best product is been installed.


---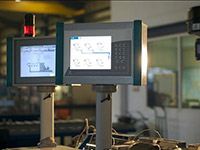 The synchronization between the extruder, dosing unit, and downstream equipment is done with a profi-bus. This way, we offer to our customer the fully automatisation of the extrusion line, each component of it is controlled from the PLC and touch screen on the front of the extruder.


---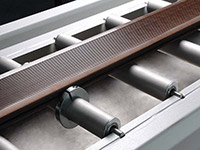 Our Calibrator Table is specially designed for higher efficiency and stability of Profile Calibrator.
Water and vacuum connections of calibrator tables can be easily increased according to profile type.
Equilibrium adjustments required for production (upward - downward, forward - backward, balance, etc.) are designed either as manual or automatic according to the models of machines.


---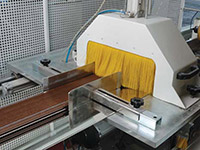 WPC profile saw unit:


---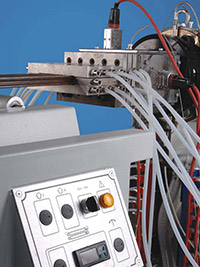 Extrusion of the WPC decking profile: